Do you want to learn guitar or have tried in the past and failed, then I have a treat for you.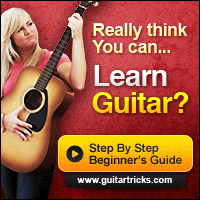 The Guitar Tricks Course is one of the most comprehensive and fun courses. The structure is without peer in the industry. They focus on the beginner from the start, within hours you can be playing songs.
Guitar Tricks has grown along with the internet, presently they employ about 40 guitar instructors to teach their "Core Learning System." You can try it for Free for 14 days!
With a step-by-step collection of courses meant to take a complete beginner all the way to an upper-intermediate level. They also track your course progression, so that you can come back into the member's site and just pick up where you left off. Consequently, you just follow the lessons and progress at your own pace.
This course is designed for easy use and fun!
Disclaimer: This article contains affiliate links where I may receive a small commission at no cost to you if you choose to purchase from a link on this page.
GuitarTricks lesson structure
The backbone of GuitarTricks' offering is its "Core Learning System."
This is basically a collection of courses meant to take a complete beginner all the way to an upper-intermediate level.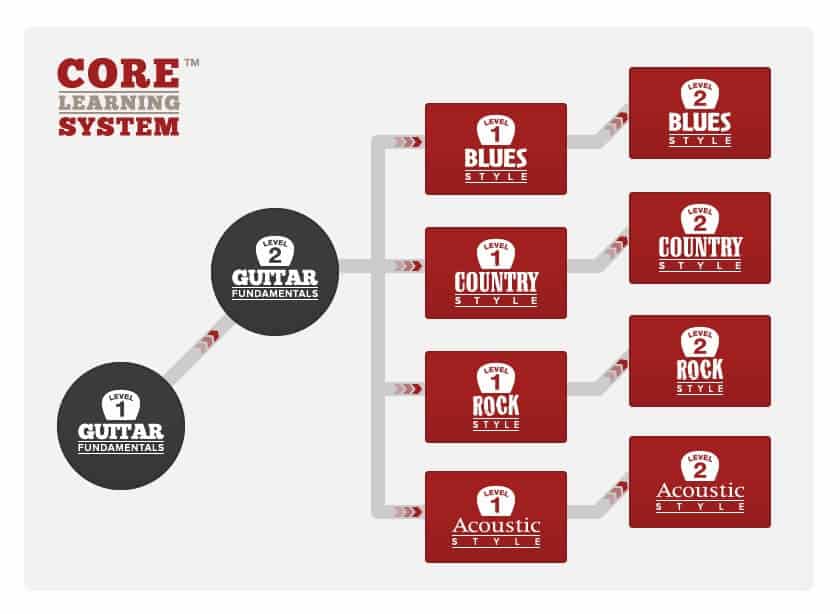 Guitar Tricks is a San Francisco-based company that started up in 1997, so it has been around for a long time. They have lots of experience in teaching online and have perfected the direct line of teaching, which is great for beginner guitarists.
In short, they understand that we all feel a bit insecure about starting our journey to be a guitarist. My post on beginners having fun may interest you if you are excited to get started.
Coming from a professional musician's life myself of over 40 years, I could see at a glance that Guitar Tricks leaves nothing out. But if you are an Intermediate guitarist you may find this is a little slow for you and maybe it's worth checking out Jamplay, where I do my study.
Understandably, every guitarist who is honest will tell you that there are gaps in their knowledge. It's deciding where and with whom you want to find the pieces that you are missing.
Not all guitarists are created equal
That is because we all come to guitar playing in different ways. Hence, the need to fill the musical gaps in our education.
I'm self-taught but I know many people who started lessons in school and are terrific guitarists at a very young age. However, many of us don't get the chance in school to learn an instrument.
Then we have older musicians, who have waited until their family has grown up to start playing. Subsequently, they don't want to start out too simply, they just want to start playing today.
GuitarTricks recognizes that we all have different starting points. So they cover the basics in very short lessons that you can quickly digest and move on if it's something you know.
Then, if you hit something you want to learn you can stop the video, watch it again or download the video and the PDF to work with anywhere. You have control to tailor the lessons to fit what you need to learn.
This is an incredible option. You can spend thousands of dollars and years trying to pay a live person to teach you and you have to learn what they choose and at the pace that they decide.
At Guitar Tricks you are in control.
Features that benefit you today to master guitar
Learning Songs on Guitar Tricks
Sometimes you don't want to sit through a course which will take you weeks to cover. If you are ready to jump in and learn a song you love than the song lesson collection of GuitarTricks is very strong. After all, that's why you picked up the guitar in the first place, isn't it?
Check out this list of simple songs with instructions that you could start learning today!
The Guitar Tricks Course has a great approach, you can:
Pay monthly or a yearly membership for full downloadable access (not songs) $19.99 monthly or $179.99 for a yearly discount of $60
You get all the lessons to take you from a total beginner to Intermediate 
That's 11,000 videos
1000+ songs for you to learn
Teachers from all around the world
Guitar Tricks Facebook invitation join an exciting community of guitarists
What's in the Guitar Tricks membership?
A clear path to where your courses are stored. An indication of how many lessons you have done and no flashing ads to annoy you.
This is one of the easiest websites I have ever navigated. I was so impressed with the course and the offer, that I paid and joined. I can tell you that I'm through 8 videos already and picked up a few ideas I didn't know. Love the daily tips on Facebook!
Furthermore, what has impressed me most, was that when I went back in today to do some more lessons. I didn't have to stuff around trying to work out where I had left off.
Even better there is a bar showing how far along I am in my videos. No guessing (no excuses) about which video to restart on.
Start learning and playing Guitar today
No waiting. Pay, join and the email confirms you and you can start.
It was so easy. I went into the member's lounge clicked on my course, picked up my guitar, and began learning.
40 teachers who have a warm, relaxed teaching style
The lessons are not too fast or too slow
Creating the Guitar Tricks Way
If you are a total beginner and truly lost as to where to start with learning how to play guitar you will love this course.
This is a photo of me enjoying the pure joy of learning to play guitar with a group of like-minded musicians. You could be playing before you know it!
Only one Con
If you don't join the course on a coupon it will cost you twice the amount of Jamplay, which is worth it if you are a beginner. If you want to be able to play most styles of guitar, learn theory, some rifts and begin to perform with credit as a beginner, this course is for you.
Another option if you only want to pay once and own a course with 20 DVDs, 6 play-along
 CD's and a hard copy book for $99 once off. Then check out my teacher Steve Krenz's course with Learn and Master Guitar. Absolutely awesome value. I'm still learning from it 12 years later!
A Gibson guitar course for under $100?
Years of home instruction! I love hard copy and when my internet is down or I'm traveling, I can take the discs with me and still learn.
My only negative comment is that in all the examples, the style of playing is old school and the videos are a little blurry. But guitar music theory is pretty much the same, whatever style of playing you choose until you specialize.
Be you a guy, girl, young or older, learning to play in different genres is great fun.
If you are more interested in checking out another genre and learning to read music, have a read about my amazing guitar teacher Steve Krenz and his course. Free Live Lessons too.
A truly fun course. I will be bringing you updates as I continue the lessons and move into the other courses, that came with my package and Jam with the band tracks in the Jam Station.
If you haven't even bought a guitar yet head over to my reviews on the best guitars for beginners. There are some amazing packages out there with a guitar, amps, straps, tuners, etc all included. Look here for amazing Australian packages by Artist guitars.
These are some of the guitar packages available in America through Sam Ash Music. Just type in the Epiphone Les Paul package and scroll to the bottom of the guitars, awesome.
To view this wonderful course and get started head to this link.
If you've enjoyed this article, please leave a comment and share your thoughts and ideas.
Happy to help in any way.
Enjoy your guitar-playing journey.
LILY